Please note that this post was written in 2009 when I was vegetarian and had been for nearly 20 years. I am no longer vegetarian (as of April 2010) and therefore this is not reflective of my current daily diet.
I am often asked what I eat, so I'll try and describe a typical day as much as possible. I'll also try to point out where this is not good for others to follow!
Breakfast:
…is porridge just about every day. Made with whatever milk is in the fridge (usually real stuff) or boiling water. The amount is large – approximately 100g of dry oats. (WATCH OUT: Having the same thing every day can tempt food intolerance unless your immune system is good).
Lunch:
… is usually a huge salad – lettuce, cucumber, peppers, cherry tomatoes, celery, fennel, beetroot,  alfalfa sprouts, bean sprouts and then the calories (energy) come from farm shop cole slaw (no sugar), 3-4 cheeses (e.g. cheddar, edam, ementaal cubes, feta – whatever is in the fridge) and cottage cheese in the middle. With 3-4oz cheese and at least 3-4 table spoons of olive oil, the calories should be more than 700-800. This is a great Phase 2 fat meal. (Andy took a photo on 26/8/09 of our normal lunch salad – see below). I weighed the bowl before and after and the actual food weight is 500g (just over 1lb). In the winter we tend to have the same salad, but with a bowl of soup as well – to warm up. We have the salad first and then the soup, or it doesn't work!
Every now and again I really fancy bread and Andy and I will share a whole loaf of farm shop granary, or whole wheat, bread and one of the recipe book soups. No butter though – dunk instead. (WATCH OUT: Wheat intolerance is the most common intolerance that I come across – you will do better staying off wheat altogether until you're close to goal weight and then only cheat with it rarely after that).
If I'm out – I'll have a sandwich, like a brown bread cheddar ploughman's. If I want to avoid wheat and I'm out, I'll have a decaf whole milk cappuccino from a coffee shop (the real milk is so much more satisfying) and 100g (85%) dark chocolate and/or a sugar free, wheat free, sweetener free cereal bar (there are a couple).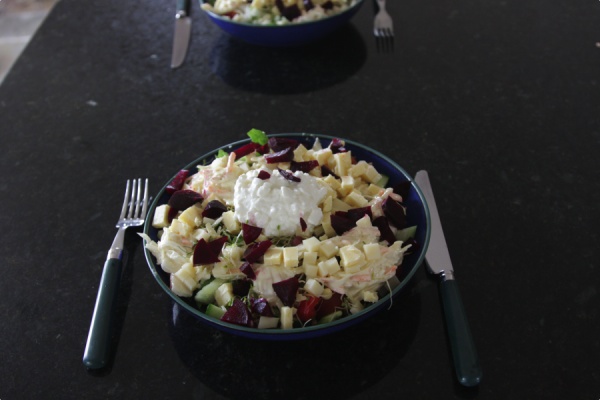 Dinner:
… is sometimes a black tie meal out (I'm on a few boards). I always make sure they know I don't eat meat (mostly I'll tick the veggie box and sometimes just the non meat eater box – I do struggle to eat any animals!) I may get a goat's cheese tartlet and then risotto and then a decent chocolate torte – anything tasty and healthy I will eat. I don't eat things like white bread or boiled potatoes – they're tasteless – what's the point?!
At home I do tend to have a fat meal or a carb meal (I've just got so used to not mixing). A carb meal would be a large bowl of brown rice and stir fry veg or pasta (usually rice pasta) and a home made veggie sauce or nut roast (the version with brown rice in the recipe book). Portion again is c. 100g dry weight of the rice or pasta and then loads of veg and loads of olive oil. If I have a fat meal, it could be fish (which I have started trying to eat for my health). Andy usually cooks fish in butter. Or I have a veggie fat meal, which would be a cheese/aubergine/olive oil/tomato/courgette kind of concoction – all very Mediterranean therefore. We have loads of extra veg with whatever main meal we have – whatever comes in the organic box we get delivered each week from our neighbour, Paul.
I'll sometimes 'mix' for a main meal – e.g. crispy baked potato (or two) & cheddar cheese or pasta with a mushroom cream sauce.
Andy (I often get asked this too) is a passionate carnivore by the way! He loves his lamb, steak, pork chops, kidneys, liver and all sorts, which I happily buy for him from the local butcher – I don't object to meat in any way – I just personally don't want to eat meat. The cat and dog also eat meat and fish (and anything else they can get hold of). They love living in a house that has cream in the fridge at all times!
Other:
I drink 4-5 large decaf coffees during the day and 3-4 beakers of water. At home the coffees are black and instant. If I'm out, I'll have decaf whole milk cappuccinos from a coffee shop.
Here's the fun bit – I eat at least 100g (550 cals) of 85% cocoa dark chocolate every day. Sometimes I have been known to eat 2 bars! I tend to have some mid morning (WATCH OUT: Avoid snacking if you want to lose weight) and then a couple of squares after lunch and dinner. If I'm working late in the evening I can get through a second bar!
I rarely have any desire for anything before bed. If I do, I'll have some full fat live yoghurt. I sometimes have fruit first thing in the morning before the dog walk (I walk about 30 mins a day and swim about 3 times a month) and I'll have fruit late afternoon if there is something in season that I really like (usually berries or cherries or English apples when they first come out).
Things I never eat:
Meat, biscuits, cakes, sweets, confectionery/milk chocolate, sugared cereals, bread with more ingredients than are necessary, tins of things that should not have sugar added (chick peas, kidney beans, tomatoes etc), 99.9% of things in packets! I also don't drink alcohol, as I never managed to acquire the taste and it all tastes like vinegar to me! (This is not why I am slim – if you drink more calories than I eat in chocolate, you should be in a clinic!)
Things I never choose to eat (but I will eat at a dinner party/function, for example) are white flour, white rice and white pasta.
What I eat if I want:
Crisps: Kettle chips with two ingredients – potatoes and olive oil (not even salt) – as is recommended for Phase 3 in the book.
Ice cream: Haagen-Dazs vanilla, which has (in order) fresh cream, skimmed milk, sugar, egg yolk and natural vanilla flavouring – as is recommended for Phase 3 in the book.
ChocolateS: As opposed to chocolate. I will get really high quality chocolates, ideally hand made from individual shops, which use cocoa, cocoa butter, vanilla and other natural flavourings, real cream, nuts, coffee beans etc and minimal, or no, sugar or sweeteners.
Luxury dessert: The chocolate mousse recipe in the recipe book (p435) is my idea of heaven! I change the recipe to only have sugar to stiffen the eggs (not in the egg yolk part of the recipe) and I use only 85% cocoa chocolate bars – not even 70%.
Other good products: oat cakes (ingredients only need to be oats, olive oil and salt). Gillian McKeith cereal bars are pretty good (handy if you're on the run all day). Bananas – if you're not very carb sensitive, the banana is nature's own little gem in a wrapper. I do like dried apricots, but they are too high carb for people with Candida, or Hypoglycaemia or trying to lose weight.
Supplements:
I take one Centrum Performance multi vitamin and mineral tablet whenever I remember. In the week before my period I eat more dark chocolate! Supplements are not necessary, but I think of them like an insurance policy – have one just in case.
I'll try and scan in my last BUPA MOT results. When they analysed my diet they were horrified by the fat content and when they saw the blood test results they suddenly went quiet! I'd love to tell them I used to put on weight eating 1000 cals a day!